This topic is focused on exploring the problem of noisy string samples and perhaps providing a few solutions . . .
[
NOTE: For reference, "noise" generally is defined to be any undesired sound . . .
]
I did a few experiments, and this problem happens with the Notion 4 string sections, but it also happens with the solo violin, solo viola, and solo cello, although some of the troublesome notes are different for the solo strings . . .
[
NOTE: You can view the complete image via right-clicking on it with Firefox ("View Image") or Safari ("Open Image in New Tab") . . .
]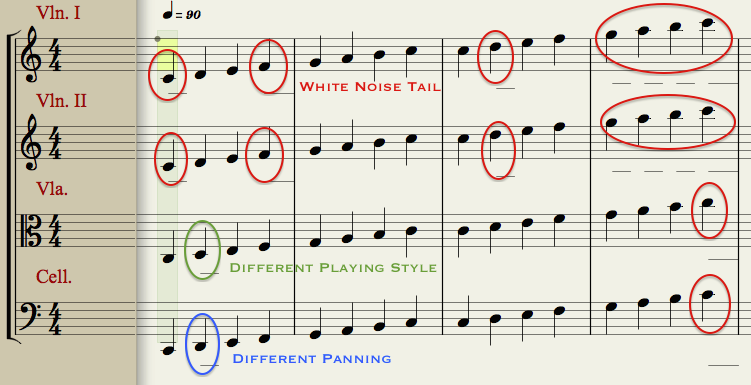 "N4-String-Sections.notion" ~ (approximately 61 KB)
The solution is to use a VSTi virtual instrument for the strings, but the VSL strings that come with Kontakt 5 (Native Instruments) and the strings that come with MachFive 3 (MOTU) have the same problem, as do some but not all of the Miroslav Philharmonik string ensembles (running with NOTION 4 in 32-bit mode), but as noted Miroslav Philharmonik is 32-bit mode only, although IK Multimedia is taking pre-orders for SampleTank 3 which will be released in July 2014 and plays the various Miroslav Philharmonik sampled sounds . . .
As best as I can determine, violins and violas generally are troublesome, but this is based on the various sound sample libraries I have here in the sound isolation studio . . .
Intuitively, I think that Vienna Symphonic Library (VSL) should have some good violin and viola sample sound libraries, but I have no way to verify this at present . . .
The section violins that come with Finale 2012 (Make Music) sound pretty good, and they are Garritan Personal Instruments for Finale, which is encouraging; and you can use them in NOTION 4 via the Aria VSTi virtual instrument, noting that I have this, hence was able to do a few tests with it, and it runs in 64-bit mode, which is important . . .
[
NOTE: This discussion started in a different topic, but I think it is important and deserves its own topic. This is one of the relevant posts, which I quote and copy here . . .
]
idiotSavant wrote:

Surfwhammy wrote:I also like the instrumentation but with one exception, which specifically is the instrument that has what appears to be a prominent white noise component . . .

Surfwhammy, I think what you're hearing is the sample's rendition of the sound of the bow scraping the strings. I've noticed that this can be grating on many violin patches from various sound libraries (VSL included) and also noticed it in John's Clouds piece.

I usually apply a focused parametric EQ to eliminate this effect, sometimes successfully, sometimes not. I think this adds to what many refer to as a "chilly" sound from the strings, especially the violins.
THOUGHTS
Relevant items of interest include (a) solutions; (b) sampled sound libraries that do not have the problem; (c) workarounds and techniques for reducing the noise; and so forth . . .
However, since psychoacoustics is a key aspect, I created yet another topic to focus on psychoacoustics, where for reference "psychoacoustics" focuses on the perception of sound and is quite fascinating, especially with respect to creating and identifying auditory illusions (
a personal favorite
) . . .
Psychoacoustics and Digital Music Production (Notion Music FORUM)
Lots of FUN!