cameron.mcnaught wrote:I am trying to write some swing music where the top of sheet music shows the feel of the music. At the top, it says, using notes, "two eighth notes = dotted eighth-sixteenth feel". Is this possible in notion?
You can do this, but you need to find a typeface or font (a) that provides the necessary notation and (b) that works correctly with the NOTION 4 Text field . . .
On the Mac, I used the "MusiSync" font (Robert Allgeyer) to do the following in a Text field in a NOTION 4 score based on the Jazz Combo template:
[
NOTE: The red outlines are

not

part of the actual NOTION 4 scores . . .
]

Example #1
[
NOTE: I am not familiar with the terminology you want to express with notes, so this is another possibility . . .
]

Example #2
MusiSync Font by Robert Allgeyer (FontSpace)
After doing a bit of research, this looks to be more accurate: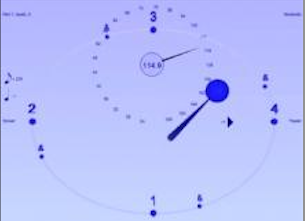 Shuffle Feel Example - 3:1 ratio - Hard Swing (Jazz style) ~ Bounce Metronome ~ YouTube

Hard Swing (Hard Shuffle) ~ Dotted Eighth + Sixteenth ~ 3:1 Ratio
Jazz Swing Types (Wikipedia)
THOUGHTS
There is a virtual festival of music typefaces available, and some are free while others need to be purchased . . .
Generally, the way it works is that you download the typeface (which might be called a "font") and then install it to the set of typefaces or fonts for your computer. On the Mac, this is done using the "Font Book" application that comes with Mac OS X . . .
If you are doing digital music production in the Windows universe, there is a similar application . . .
Once the typeface is installed, you need to determine whether NOTION 4 is able to use it in a Text field, and if it is, then there you are. Otherwise, if NOTION 4 cannot use it in Text field, then you need to try another typeface or font . . .
Also note that the way you input the "notes" probably will be different from the way the rendered notes look, where in the two examples (
see above
), this is what I actually entered:
Code: Select all

Example #1: "e= i-s"

Example #2: "e+ e= i-s"
. . .
If you want to append the word "feel", you can do this by using a second Text field placed to the right of the Text field with the notes, but in this context I think "feel" is a bit redundant . . .
Lots of FUN!