LarsikComposer wrote:I`ve just upgraded from notion3 to notion4. The installation of the program worked fine, but when I try to install the bundled sounds it crashes everytime. What can I do? This is really frustrating.
As I recall, there are a few scenarios in which this or something similar can happen, but without more information it is not so easy to provide specific advice . . .
Nevertheless, there are a few bits of information that might be helpful . . .
[
NOTE: I do everything on the Mac, so the screens are the Mac versions . . .
]
(1) There is a download page for the NOTION 4 bundled sounds at the Notion Music website, and the way you navigate to it begins by starting NOTION 4 . . .
When NOTION 4 is loaded and running, click on the "Notion" menu, and then click on the "Check For Sounds Updates . . ." menu item . . .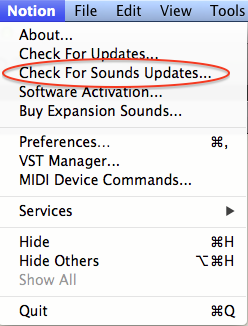 This will cause the "Update Instruments" dialog to appear, at which time you will click on the "Visit Download Page" button at the lower-left corner . . .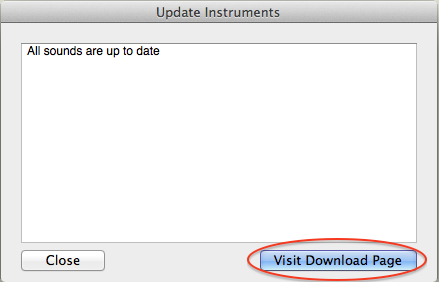 This will start your web browser, which on the Mac will be Safari. On a Windows computer, it probably will be Internet Explorer, but this is only a guess since I do everything on the Mac and at present do not have a Windows computer from this century or millennium, which if nothing else provides a clue regarding when I made the vastly brilliant decision to switch to the Mac . . .
On the "NOTION Music ~ Notion 4 Sample Update" website page, you will find links to the Mac and Windows "Notion Bundled Sounds Installer", and if you use this strategy a download will be started which proceeds to download the entire set of sampled sounds (approximately 6.5GB of data) . . .
Depending on your Internet Service Provider (ISP) and download speed, the installer strategy can work nicely, but as noted (
see above
), it is a large download and this can be troublesome if your ISP is aggressive in its implementation of throttling or metering web traffic, where what happens is that the download speed is fast for the first 100MB of data but then slows to a crawl and essentially never completes, which when this occurs is entirely due to the local or regional ISP, because the download servers Notion Music uses are very fast with more than sufficient bandwidth resources to handle large downloads for multiple sets of Notion Music customers simultaneously. In particular, Cox and Comcast tend to use nearly Draconian throttling and metering algorithms, as do some of the other national and regional ISP companies; and on a related note, all of them are trying to get the FCC to allow various types of throttling and metering schemes that, if allowed, will be the end of so-called "net neutrality", where high-speed downloads only will be available when companies and customers pay extra for it, with the common folk typically getting slow response and lousy throughput in general . . .
FCC Net-Neutrality Plan in Chaos (Time Magazine, May 2014)
The other strategy, which also is explained at the "NOTION Music ~ Notion 4 Sample Update" website page, consists of downloading individual sections or instrument groups separately, which keeps the download file sizes smaller, hence is less likely to cause the downloads to be throttled or metered by the local ISP, although if you stack them, the same thing happens, hence if this is the strategy you select, then you will want to do them in small sets or individually in a sequence. And there are instructions that explain how to get the files into the correct locations, which basically is to unzip the files; to start NOTION 4; and then to double-click on each of the sampled sound libraries, which causes NOTION 4 to do the copying and installing . . .
THOUGHTS
If you are trying to install the NOTION 4 bundled sounds from a DVD, then try copying the files manually to your computer, which is like the second strategy (
see above
). Sometimes installer programs do not work so well or the licensing scheme changes, where for example this is something that happened for a while with some of the IK Multimedia products when they switched to a different licensing scheme . . .
One of these strategies will work, but if not then you can call Notion Music customer support and get more specific help, although you should be able to get the NOTION 4 bundled sounds installed with the information provided in this post. The only reason for this not working that comes to mind is that you might be doing something non-standard with respect to the way you installed NOTION 4 or the particular type of user account you are using, which for the Mac should be an account with full administrator privileges. For Windows, the account privilege requirements are a bit different, but an account with full administrator privileges can do anything, which is a useful thing to remember . . .
Lots of FUN!