Several of the posts to this FORUM over the past week have included observations about layering and composing "by ear", which are two of my favorite strategies, so I decided to add a few thoughts and to include some information about custom echoes . . .
Generally, there are two types of layering:
(1) Creating a song one layer at a time, which for practical purposes is a recording and producing technique that Les Paul devised in the late-1940s, where initially he used platters but later started using an analog magnetic tape unit that Bing Crosby gave him. Historically, this technique was used in a very primitive way soon after Thomas Edison invented record players and various media, but I think it is a accurate to attribute this technique in a practical way to Les Paul, noting that Phil Spector and George Martin moved it forward considerably . . .
(2) Creating custom instrumental and vocal tone and texture by using multiple iterations of essentially the same part but with variations, some of which are subtle but not always. For the most part, in what one might call "popular music", I attribute this primarily to Phil Spector (monaural) and George Martin (stereo), but more so to George Martin, probably because I first noticed it in an immediately conscious way after studying Beatles songs, where one of the key aspects is that this is something which generally requires studying, since it is
not
always so obvious . . .
Regarding custom echoes, for "popular music" this traces directly to Sam Phillips and Sun Records, where the stellar example is "Great Balls of Fire" (Jerry Lee Lewis), with this type of echo generally being called "slapback echo" (75 to 250 milliseconds) . . .
Delay (wikipedia)
[
NOTE: The sound quality is excellent, which is the reason I selected this particular YouTube music video, even though it is digitally remastered . . .
]
"Great Balls Of Fire" (Jerry Lee Lewis) ~ YouTube music video
This is an example of an early Beatles song where John Lennon's lead vocal is doubled, which is most obvious at approximately 1:37 on the tail of the word "home" . . .
[
NOTE: This is the remastered monaural version, and the sound quality is very good, which makes it easier to hear the the doubling . . .
]
"It Won't Be Long" (Beatles) ~ YouTube music video
Once you discover how to distinguish subtle custom echoes, it soon follows that it becomes easy to hear and to create longer custom echoes, which eventually leads to discovering how to do something that I call "working an echo", which is the strategy based on playing into echoes or having a bit of FUN shifting time and by doing so creating auditory illusions . . .
[
NOTE: When the variations are small but precise, this creates an auditory illusion which generally is called the "Haas Effect", but it does other things, as well. The Haas Effect also is called the "Precedence Effect" . . .
]
Haas Effect (wikipedia)
Lennon understood the importance of custom echoes and by the time the Beatles were recording "Sgt. Pepper's Lonely Hearts Club Band", Lennon would sing his lead vocal part over and over into cascading sets of echo units, which among other things is an excellent way to
reveal
the correct melody, phrasing and timing, since the cascading echoes work both additively and subtractively with the result that only the correct melody, phrasing, and timing is heard in the composite or Gestalt . . .
THOUGHTS
In the digital music production universe, I use Timeless 2 (FabFilter Software Instruments) as my primary echo unit, because it is the most elaborate echo unit available on this planet, but I also use other echo units depending on the particular requirements . . .
Timeless 2 (FabFilter Software Instruments)
As best as I can determine, the more classically oriented composers do
not
devote a lot of attention to echo units, although I think they are quite enamored by reverberation, which actually is just a different type of echo . . .
[
NOTE: In historical context, classical composers devoted vast attention to echoes but in a different way, since there were no echo units at the time, hence instead of creating echoes with echo units, they created virtual echoes with note repetition, counterpoint, harmony, and so forth, where in this context having a same voice ensemble sing a vocal phrase was a type of "doubling". At least some of the time, concert halls and other intentionally designed rooms generally were focused on creating enhancing reverberation, and for the most part this was the only actual wet "special effect" composers could expect, hence they created everything else using primarily dry instruments and voices, where (a) "dry" refers to the way an instrument of voice sounds without reverberation and echo and (b) "wet" refers to the way an instrument or voice after being enhanced by reverberation and echo . . .
]
Singers in popular music genres tend to experiment with echoes, but for singing there generally is an upper limit to the delay times that produce enhancing effects without creating chaos; and based on this, I think the folks who focus most intently on echoes are the musicians who play single note melodies on melodic instruments, at least initially . . .
It takes a while to discover how to "work an echo unit" (or to "play into echo", if you prefer), and the rules can be a bit unusual at times, but it starts making sense the more you do it, which also is the way it works with whammy lead guitar, where the primary reason that so few lead guitar and rhythm guitar players use whammy systems for anything other than "nose dives" is that the rules for whammying are patently counterintuitive, where in some respects the most important rules are (a) that you need sonic space to whammy and (b) that you need to start whammying before it needs to be heard, which makes sense if you think about it for a while, where the simple but abstruse explanation is the it makes no sense to do staccato and vibrato simultaneously. Explained another way, observing that whammying is a flavor of vibrato, the only way it can be perceived is when there is sufficient time and sonic space for at least one complete cycle, which can be (a) up and down, (b) down and up, or (c) some other combination of up and down, with or without respect to order, where creating the required sonic space is one of the important activities of composers, arrangers, and producers . . .
[
NOTE: Hershel Yatovitz is a personal favorite lead guitar player who understands the rules of whammying . . .
]
"Wicked Game" (Chris Isaak) ~ YouTube music video
"BY EAR" COMPOSING AND GESTALTS
Depending on one's perspective, I am not so certain that there is any other way to compose than "by ear", although I suppose anything is possible and there always are exceptions . . .
Using an analogy, metaphor, or simile, sculpture certainly can be perceived in total darkness, but this is
not
the case with paintings or listening to music with the volume set to zero, hence one way or another music is composed "by ear", even in the case of Beethoven when he lost his hearing, because although he was not able to hear the orchestra and singers, I think he "heard" the music in his mind . . .
As it relates to custom echoes--in particular "working an echo" and "playing into echo"--it is very important to listen to echoes, because as noted (
see above
), cascading echoes work both additively and subtractively, where the adding and subtracting is controlled by delay times, repeats, equalization, and feedback levels . . .
This is a song I have been developing this week, and it is four reasonably simple instruments (keyboards, guitar, bass, and drums, including a bit of Latin percussion) run through elaborate custom echo units via Timeless 2, where the following YouTube music video shows the music notation as the song is played in real-time . . .
[
NOTE: This is the custom echo unit for the MF3 Vibrato Strat, and it adds motion-based echoes . . .
]
[
NOTE: This is the NOTION 4 Mixer for the enhanced version of "Syrup", where as you can see there is at least one echo unit on nearly every instrument . . .
]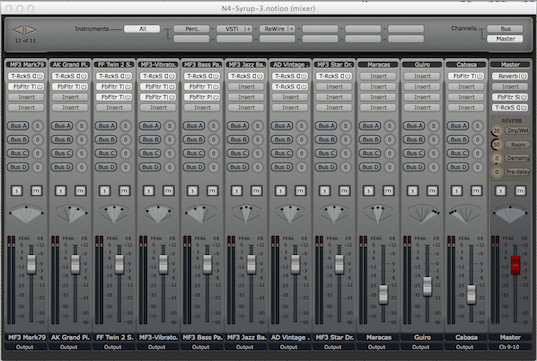 "Syrup" (The Surf Whammys) ~ Enhanced Version ~ YouTube music video
The key bit of information is that only some of the notes are expressed explicitly in the music notation, since the other notes are provided by the various echo units, where some of the notes are synthesized by the custom echos adding and subtracting--which is the Gestalt aspect--and I think the only practical way to do this is "by ear", which is fabulous . . .

Fabulous!