idiotSavant wrote:Is there a way to note a glissando across multiple measures? It appears that a glissando can occur only across one bar line, not more.
This appears to be the rule, but there are a few other rules which depend on the specific instrument, where for example, for the NOTION 4 Piano the notes are diatonic . . .
This is the way I use glissandi as a simple technique to play a descending diatonic scale on the NOTION 4 Piano . . .
In contrast, glissandi for saxophone and guitar are chromatic . . .
The best way to make sense of the rules is to do a few experiments, where the following certainly is an interesting experiment . . .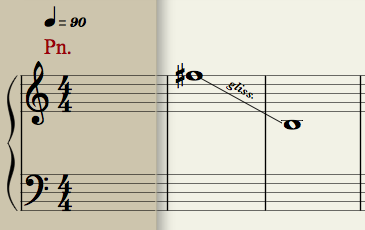 And you always can either (a) avoid using measures or (b) use a custom time signature, as shown in the following YouTube music video I created a while ago to have a bit of FUN with the NOTION electric guitar tab palette and quarter tones . . .
[
NOTE: The YouTube music video shows the music notation as the song is played by NOTION in real-time, where you will observe that at various times the pretend pianist is playing a virtual festival notes with, for all practical purposes, nearly no actual instructions other than starting and ending notes for glissandi, which is an interesting way to let the computer do most of the work . . .
]
"Abyss" (The Surf Whammys) ~ YouTube music video
Lots of FUN!