Rubens wrote:Did some experiment and the thing is that if I use aux tracks instead of audio tracks everything works perfectly. So... should I stay with the auxs or there is a way to fix it?
Something is different, but it is not so easy to determine what it is . . .
I do not have any auxiliary tracks in my Digital Performer projects . . .
Stereo audio tracks work nicely for ReWire 2 . . .
The problem with using auxiliary tracks is that they do not have Solo, Mute, Input, Record, and other buttons, so you have to route them to an audio track to do anything with them, which is an extra step and doubles the number of tracks in the mixing board. You can hide the auxiliary tracks, which reduces the clutter, but I prefer using audio tracks (monaural and stereo, depending on the instrument and its source) . . .
One possibility is that the Bundles are not correct, although since they are defined
automagically
as needed, perhaps not . . .
This is how the Bundles for NOTION look in my Digital Performer projects:
[
NOTE: If you are using the Firefox web browser, you can right-click on the image and then click on "View Image" to see the full image. There is a similar command for Safari (Open Image in New Tab) . . .
]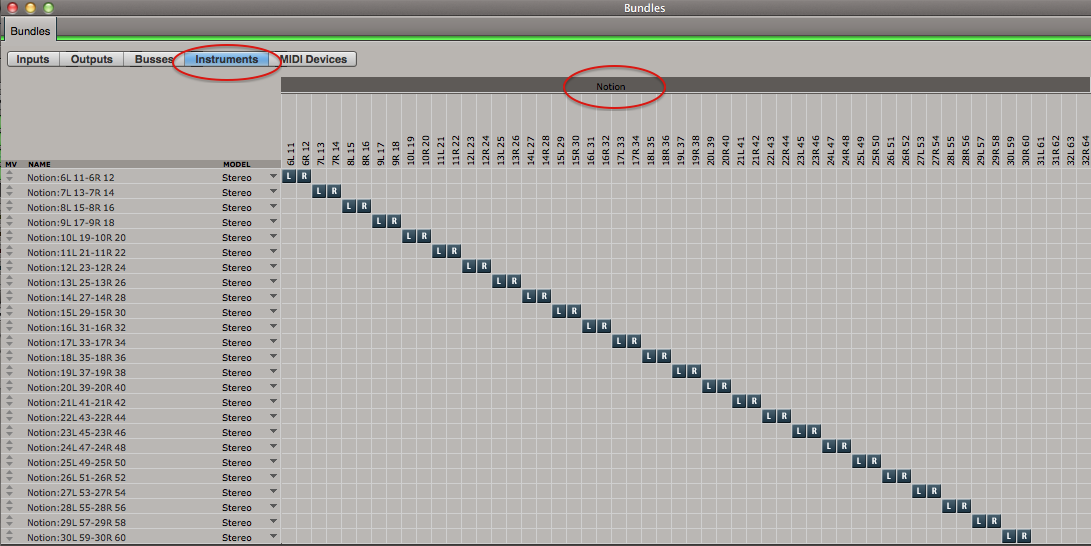 This is the way you examine the Bundles from the "Studio" menu for Digital Performer, where you need to click on the "Bundles" menu item:

Two differences in the way you have Digital Performer configured are (a) the OUTPUT and and (b) the audio resolution, as shown in the copy of your screen capture that I edited to add red circles . . .
[
NOTE: You are using Mac OS X Core Audio rather than your MOTU UltraLite driver. Using Mac OS X Core Audio is fine, but it is different. The only time I used Mac OS X Core Audio (actually "Built-in Output 1-2" was when I needed to do something with the Melodyne Editor, which at the time only worked with Mac OS X Core Audio, noting that I call it "Mac OS X Core Audio" to distinguish it the MOTU 828mk3 Hybrid external digital audio and MIDI interface and its driver. When the MOTU device is handling the audio and MIDI, there is stuff happening with Mac OS X Core Audio, so to some extent Mac OS X Core Audio is present all the time . . .
]
[
NOTE: You have the bit-depth specified at "24 Bit Integer", but NOTION 4 generates audio at standard CD quality (44.1-kHz at 16-bits) . . .
]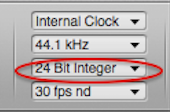 This is the way I have it configured in Digital Performer:
[
NOTE: "Main Out 1-2" is the main stereo output of the MOTU 828mk3 Hybrid digital audio and MIDI interface that I use here in the sound isolation studio, but in the NOTION 4 Mixer it maps to the "Ch. 9-10" pair, because the first 8 channels are mapped to Analog channels 1 through 8 . . .
]

[
NOTE: I use standard CD audio quality . . .
]

Whether these settings make any difference is another matter, and since you hear audio when you use an auxiliary track, it might not make any difference, but these are differences in the way we have Digital Performer configured on the Mac . . .
THOUGHTS
If you have been experimenting with this for a while, it is good to save and exit all the application, after which you can restart them in a new ReWire 2 session. This clears all the buffers and so forth; and some parameters only take effect when you exit and then start a new ReWire 2 session . . .
I should be able to create a simple Digital Performer 8 project that uses Mac OS X Core Audio for OUTPUT and does ReWire 2 with a simple NOTION 4 score using a few native NOTION 4 virtual instruments, which I can post so that you can see how it works . . .
It will require turning-OFF the MOTU UltraLite and using headphones connected to your Mac, but this is
not
difficult to do . . .
Something is different, and it is just a matter of determining what it is . . .
Lots of FUN!