Did you download and install the updated Yamaha Motif ES8 driver for Mac OS 10.9 (Mavericks)?
[
NOTE: You can filter the selections by operating system version, which makes it easier to find the correct driver . . .
]
Yamaha Motif XS8 Dowloads (Yamaha Support)
There is a preset for the Yamaha Motif ES8 in Audio MIDI Setup, so you might want to add it as a new device and then to connect it to the Focusrite Scarlett 2i4 . . .
[
NOTE: I created custom TIFF icons to make this look nice, and I added them to the "Generic" folder that Audio MIDI Setup uses, but the standard icons work just as well. When I design software, I do GUI mock-ups and have a nice set of graphic tools for doing this, which makes it easy to do . . .
]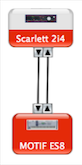 If you do this additional MIDI device connection, then you can test it with Audio MIDI Setup, and there will be tiny circles with an "i" that will tell you the connections when the mouse pointer hovers above the "i" . . .
Lots of FUN!