It is currently Wed Apr 01, 2020 3:42 pm • All times are UTC - 5 hours [ DST ]
Attention:
Welcome to the old forum. While it is no longer updated, there is a wealth of information here that you may search and learn from.
To partake in the current forum discussion, please visit https://forums.presonus.com
Any info as to what's in this update?
Bill Reed
Notion 4, Sibelius 7.5, Finale 2011/14, Overture 4, Cubase 7.5
Win8 x64, 32GB RAM
M-Audio ProFire 2626
Kontakt, VSL VI Pro, VE Pro, EWQL Orch, Choirs and Pianos
Posts: 754
Joined: Wed Oct 07, 2009 10:50 am
Location: Berkshires, MA USA
---
In general: where are the release notes for Notion updates?
Posts: 66
Joined: Wed Mar 21, 2012 3:41 pm
Location: Québec, Canada
---
installed it right now but the changes would be nice to know indeed.
Posts: 58
Joined: Thu Jul 29, 2010 2:34 pm
---
I'm downloading it right now.
For the next update: An updater that shows info about the updates itselves

Posts: 49
Joined: Fri Aug 10, 2012 4:46 pm
---
The Windows updater gives no information. The Mac updater mentioned improved MIDI recording and bug fixes, as far as I remember.
Posts: 75
Joined: Sat Apr 10, 2010 6:14 pm
Location: Norway
---
I have made a ticket to see about getting this added into the Auto-Updater.

As far as 4.0.324 is concerned, the changelog is as follows:

Fix: MIDI echo on new score.
Fix: Crash with MIDI recording on a grand staff.
Fix: Keep the tempo marking that's in the first measure.
Fix: Change expansion folder permissions if needed.
Fix: Some MIDI messages were being dropped on fast entry.
Fix: Echo MIDI input with less lag.
Fix: Echo MIDI input with less volume to match the Fishman pickup better.
Fix: In step-time entry, use the channels from the Fishman pickup.
Fix: In step-time entry, ignore short and quiet notes.
Fix: In real-time entry, remove note overlaps for single voice recording.
Fix: Not all measures getting updated after deleting measures.


-Admin
Site Admin
Posts: 1006
Joined: Mon May 11, 2009 7:12 pm
---
I just updated Notion but now the software can't find the Sound library anymore ..


HELP !
Posts: 1
Joined: Sat Feb 02, 2013 3:12 pm
---
musikuss wrote:I just updated Notion but now the software can't find the Sound library anymore ..

HELP !
Use NOTION 4 Preferences to tell NOTION 4 were the Samples Folder is located, which is done on the Audio tab, where you browse to the correct Samples Folder to set it by clicking on "Choose . . . " and then navigating to the correct high-level folder, which should be in the "Sounds" subfolder under the "Notion 4" subfolder under the "Notion Music" folder, where this is how it looks on the Mac, and it will look similar if you are using a Windows machine . . .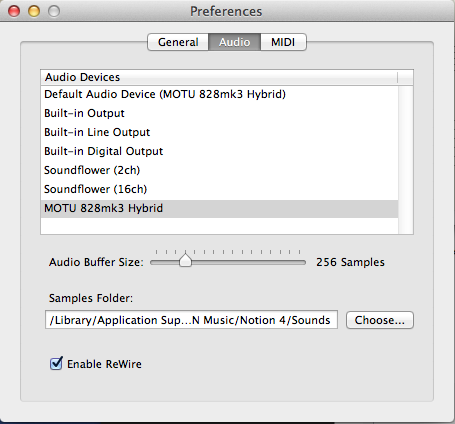 Lots of FUN!

P. S. You need to use the NOTION 4 sampled sounds with NOTION 4, because they are different from the NOTION 3 sampled sounds . . .
The Surf Whammys
Sinkhorn's Dilemma: Every paradox has at least one non-trivial solution!
Posts: 1137
Joined: Thu Oct 14, 2010 4:45 am
---
---
Users browsing this forum: No registered users and 3 guests